Kostenloser Versand

60 Tage Geld zurück Garantie!
" >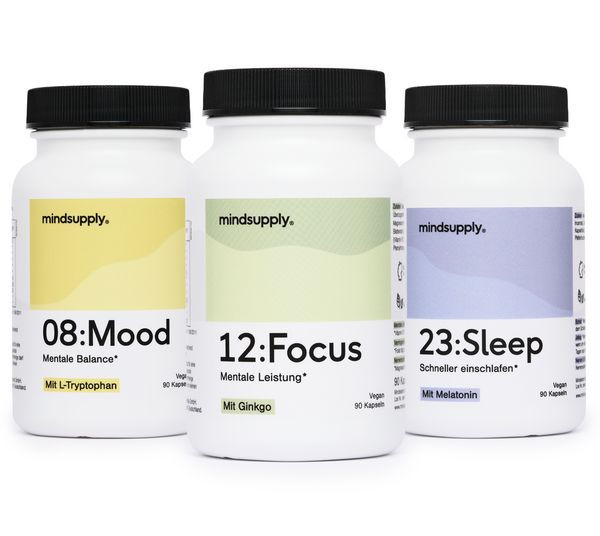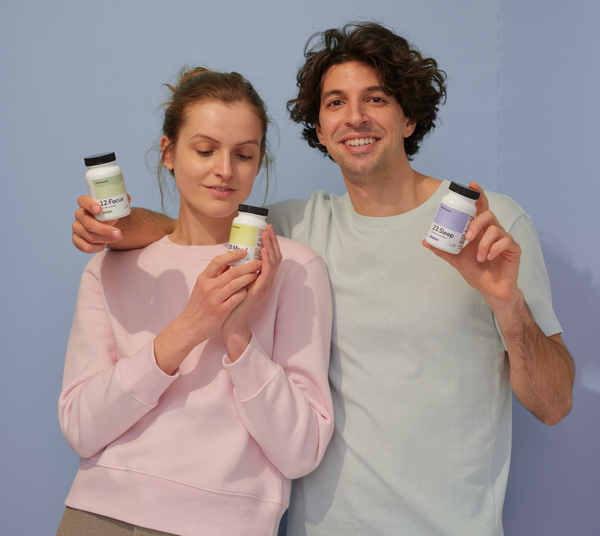 08:Mood

Protect yourself against stress and support your mental balance and immune system.

12:Focus

Provide normal mental performance and reduce tiredness.

23:Sleep

Fall asleep faster, relieve jet lag and support normal nerve function.
Darum sind sie so wirkungsvoll
Supplements gibt es in den verschiedensten Formen. Ob flüssig, als Tablette, in Pulverform oder als Kapsel – die Möglichkeiten sind vielfältig. Doch was macht die Verarbeitung in Kapseln so besonders? Großer Pluspunkt ist der Schutz, den die Hülle der Kapsel um das Pulver bietet und es damit vor Feuchtigkeit sowie Licht schützt und die Haltbarkeit verlängert. Zudem erhältst du dank der Kapseln die präzise Dosierung, die für die Wirkung sowie deine Gesundheit von großer Wichtigkeit ist.
Wusstest du schon: Unsere Kapseln sind aus pflanzlicher Zellulose, was die Einnahme auch für Vegetarier und Veganer bedenkenlos ermöglicht.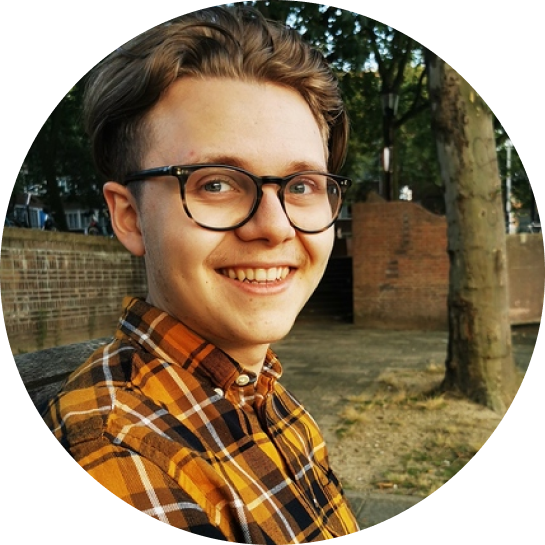 Gerade für die Uni helfen mir die Produkte von mindsupply auf einem konstanten Level der Konzentration zu bleiben. In stressigen Klausurphasen bin ich gelassener und fokussierter. Dem klassischen "Brain Fog", den man kennt, wird effektiv entgegengewirkt.
Deine Vorteile im Bundle: Für den ganzen Tag
Studienorientiert

Unsere Produkte bestehen aus der optimierten Menge an natürlichen Spurenelementen, Vitaminen und wichtigen Mineralstoffen.

Ohne Füllstoffe

Unsere Kapseln machen das beste aus deinem Tag ausschließlich mit ausgewählten, wirkungsvollen und natürlichen Inhaltsstoffen.

Natürlich Vegan

Wir verwenden natürlich vegane Rohstoffe, denn unsere Sorgfalt hilft deiner Gesundheit.

Made in Germany

Wir möchten dir den höchstmöglichen Qualitätsstandard bieten. So schützen wir deine Gesundheit und die Umwelt.
Unser Versprechen: Mach das Beste aus jedem Tag
Dein Alltag wird maßgeblich durch die Bereiche Energie, Wohlbefinden und Konzentration beeinflusst. Geht es um deinen Schlaf, deine mentale Balance und deine kognitive Leistungsfähigkeit, geht es automatisch auch um deine Gesundheit und genau deshalb sind hochwertige Inhaltsstoffe, eine gewissenhafte Einnahme und Transparenz so wichtig. Wir unterstützen deinen Geist und Körper in den wichtigen Momenten deines Lebens und helfen dir, jeden Tag so ausgiebig zu genießen, wie möglich.
Du möchtest noch mehr über 08:Mood, 12:Focus und 23:Sleep erfahren? Du hast Fragen zu uns oder unseren Produkten? Wir unterstützen dich gerne bei der Wahl deiner täglichen Helfer.
Keine Wirkung? Keine Sorge!
60 Tage Geld-zurück-Garantie
Viel Mehrwert, wenig Risiko! Wir möchten, dass du die Erfolge selbst spürst – und wie ginge das besser, als mit einer Geld-zurück-Garantie! Teste unsere Produkte 60 Tage lang und bewerte selbst, wie stark sie dein Leben bereichern. Bist du nicht zufrieden, erstatten wir dir selbstverständlich den vollen Betrag.
In Testlaune? Hier gibt's alle wichtigen Infos zu unserem Garantieversprechen.
Alles auf einen Blick
Wie & Wann
Nimm täglich - vorzugsweise eine Stunde vor Bedarf - drei Kapseln unzerkaut mit einem Glas Wasser ein.

Lieferung & Versand
Kostenlose Lieferung

Geld-zurück-Garantie

Lieferung in 1 - 3 Werktagen
Frequently Asked Questions
Can I combine all three Mindsupply products?

Yes. All of our products can be taken either individually or combined to holistically support your mental well-being.
How to take it?

Take 3 capsules with a glass of water.
Are the products suitable for vegetarians and vegans?

Yes, all Mindsupply products are suitable for vegans and vegetarians. We are convinced that a plant-based diet is part of a future-oriented lifestyle and therefore pay attention to every little detail: For example, even the shells of our capsules are made of plant cellulose.
How should I store the Mindsupply products?

Keep your bottle in a cool, dry place out of direct sunlight. Cabinets, pantries, and counters are great! Leave it in a place that reminds you to take your vitamins each day to stay on track.